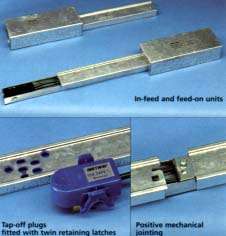 Features
Outlets are provided at intervals of 1 metre as standard with an option of 0.5 metre spacing on request. They incorporate a shutter mechanism and are both colour coded and polarised for ease of identification and safety. The moulding colour of the outlet corresponds to the particular busbar configuration, black for the single phase, blue for the two circuit and brown for the three phase track. The polarisation, in conjunction with equivalent features on the tap-off plugs, will only allow safe combinations of connection.
The tap-off plugs are also colour coded. Polarisation features also correspond with those of the socket outlets. Tap-off units are available either unfused with prewired cable tails or fuseable with terminal facility to accept cables up to 2.5mm2.
Single phase tap-offs for use with the three phase track incorporate a phase selection facility allowing on site phase designation or change. Three phase tap-offs are also available for use with the three phase track.
All tap-offs feature a positive twin latching arrangement which operates automatically on plug insertion and prevents accidental removal.
System fully complies with BS EN 60439 Parts 1 and 2.
---
Product List